Inventors (2-3 yrs)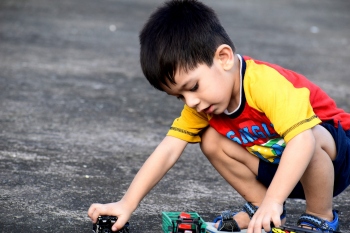 Daily Schedule

6:30am-8:30 Arrival/Breakfast/Free Play
9:00 Clean-up
9:15 Bible Story
9:30 Diaper Changes/Bathroom Break
10:00-10:30 Fine Motor/Puzzles/Craft
10:45 Large Motor/Music
11:30-12:30pm Lunch/Clean-up/Diaper Change/Bathroom Break
12:30-2:30 Naptime
2:30-3:30 Snack/Diaper Change/Bathroom Break
3:30-Close Free Play/Departure

**Free play time may involve going to the gym and/or outside weather permitting.
**Diapers are changed as needed and/or every two hours.
**In the summer the incoming 4K students may join this classroom.

What to Bring

Diapers/Pull-ups, wipes, diaper cream, sippy cup, juice and/or milk, food for morning and afternoon snacks, blanket and pillow, medications for teething (if needed), 2 extra sets of clothes.

Summer: Swim diapers (if needed), swimsuit, sunscreen, towel