Serving the LORD
CLOTHING DRIVE & GIVEAWAY ~ Aug. 3-8

Please consider volunteering for our second annual clothing giveaway being held on Aug 6-8. In the days leading up to the giveaway, you can help receive and sort donations and/or arrange things in the gym. During the giveaway, you can assist "customers" and/or keep things presentable. We will be taking precautions to avoid the spread of COVID-19, and our plans may change if there is a local outbreak. However, we encourage you to sign up and help as you feel comfortable.

Tap here to sign up for a time.
HELP WITH MR. PAHL'S ANNIVERSARY ~ Aug 23

Mr. Pahl has served his Lord in the ministry (as a teacher and staff minister) for 40 years. A luncheon and program will be held after the 10:30AM service on August 23. Help is needed on Saturday, Aug. 22 to set up the table & chairs in the gym, to set tables, and to decorate the gym. On Sunday, we need people to prep and to serve food. After the meal, volunteers are needed to clear tables, wash dishes, take down tables, chairs & decorations, and to put everything back in order.

Tap here to volunteer, or contact Randy DeBoer at 715-572-1573.
FALL 2020 - DRIVE SCHOOL BUS
Northland Lutheran High School (NLHS) needs a regular dependable driver for their Wisconsin Rapids route. This is a PAID position, and your training and testing will be paid for by NLHS. Possible additional hours are available as a janitor, tutor, or study hall monitor. For more information, please contact the principal, Ryan Weichmann, at 715-297-4427 or the NLHS office at 715-359-3400.

| | | |
| --- | --- | --- |
| SELL SCRIP ON SUNDAY MORNING Our scrip sales help to fund our Lutheran grade school and offset tuition costs for families. We need volunteers to sell scrip cards on Sunday mornings. The commitment involves selling cards for roughly 15 minutes before and after each service. Please contact Deb DeWilde if you can help. It is well worth the time. | | |
BE A WILLING WORKER
The Willing Workers is a women's service group that meets monthly. They are involved in fellowship events like anniversary celebrations. Their annual bake and craft sale raises funds to support church projects. They also promote other areas of service both inside and outside of our congregation. Please complete their survey indicating your interest in being a Willing Worker.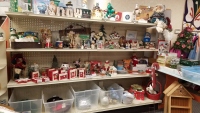 SHOP, DONATE & VOLUNTEER AT DIME & DOLLAR
Dime and Dollar Thrift Store in Stevens Point reopened on June 1. In addition to clothing, they carry household items, books, hardware, holiday décor, furniture, and more. During the shut-down, the store was freshened up to improve your shopping experience. Located at 3268 Church St in Stevens Point, Dime & Dollar is open Monday-Saturday from 10AM-4PM. Stop by and check it out. Your purchases help support Northland Lutheran High School.

In addition to shopping, you can support this ministry by donating and volunteering. Donations can be taken to the store or dropped off at our church. All items must be clean, lightly-used, and in good working condition. A complete list of items accepted is available from the church office.

All labor at the store is performed by volunteers. Regular volunteers are needed to sort donations and to cashier. You can volunteer once a month, once a week, or more often. If you can help, please contact Jan Peronto at 715-340-2809.

Here is a video tour of the store.
HELP BUILD A CHURCH IN ADAMS
Ten years ago, St. Paul's Lutheran Church of Mauston started holding worship services in Adams (about 30 miles south of here). In 2012, the Adams congregation called their own pastor. Now they are ready to move out of rented space. Construction on a church building begins this spring. You can follow their progress on facebook.

You can be a part of the project. All skill levels are welcome whether you have a background in construction or simply want to lend a helping hand. Builders for Christ is coordinating volunteers through WELS Kingdom Workers. For more information, visit kingdomworkers.com/volunteer.
DONATE COPY PAPER
We are in need of 8-1/2" X 11" white paper (labeled multi-purpose or copy paper) for printing worksheets, letters, reports and other materials. We aslo need 8-1/2" X 14" white paper for worship service folders. Donations of any amount are welcome.
LOTSA HELPING HANDS
We have a care calendar to help support those who may be recuperating from an illness, surgery, loss of a loved one, or other situation in which they could use a helping hand. Volunteers can access the calendar from their home and sign up for the listed tasks as often or as infrequently as they wish according to their schedule and time constraints. This is a very flexible opportunity to serve and this invitation is open to everyone. If you would be willing to help, please join our community on lotsahelpinghands.com or contact Cynde Joosten at joosten@wctc.net.
SHORT-TERM MISSION PROJECTS
The WELS Kingdom Workers spreads the Gospel by addressing spiritual and physical needs in communities around the world. Find out about current opportunities on their webpage.