Serving the LORD

SHOE BOXES NEEDED
The 1st-2nd grade class is in need of empty shoe boxes for a project they are doing. You can drop off your donations in the church office.

HYGIENE PRODUCTS NEEDED

Willing Workers will be conducting a hygiene products drive in February for SWEPS, our local food pantry, which services hundreds of families each month. Large boxes will be placed in the welcome center for collection from February 9-16. Please consider giving from the heart this Valentine's Day by donating any of the following: dish soap, bar soap, shampoo, toothpaste, deodorant, laundry soap, feminine products, and toilet paper.
BUS DRIVERS NEEDED

Northland Lutheran High School (NLHS) needs a regular dependable driver for their Wisconsin Rapids route. This is a PAID position, and your training and testing will be paid for by NLHS. For more information, please contact the principal, Ryan Weichmann, at 715-297-4427 or the NLHS office at 715-359-3400.
SUNDAY SCRIP VOLUNTEERS NEEDED

We are in need of more volunteers to sell St. Paul's scrip cards on Sunday mornings. We recently lost three volunteers and will be losing another for the summer. The commitment on Sunday involves selling cards for roughly 15 minutes before and after each service. Please give Deb DeWilde a call at 715-323-4028 if you can help. It is well worth the time. Our scrip rebates help to fund our school and offset tuition costs for families.
Donate Copy Paper
We are in need of 8-1/2" X 11" white paper (labeled multi-purpose or copy paper) for printing worksheets, letters, reports and other materials. Some office supply retailers offer deals and rebates, so checks store flyers and websites. Donations of any amount are welcome.
Befriend a Missionary
Through the LWMS, our congregation has been assigned a home mission to pray for and encourage during the next two years. Our mission is Light of Life Lutheran Church in Greenwood, IN, who just launched a new outreach in a city 30 miles away. For now, the new group is meeting just once a month for bible study. You can find out more about Light of Life at facebook.com/LOLGreenwood. If you would like to send an encouraging card or email, please contact us for an address.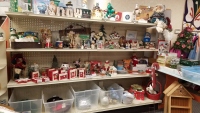 Volunteer at Dime & Dollar Thrift Store
Dime & Dollar Thrift Shop is an important source of income for Northland Lutheran High School. The people who volunteer their time and service to manage the store are truly heroes! However, our heroes are getting stretched thin; more volunteers are desperately needed to help out. Could you lend a hand? Call Jamie at 715-849-4168 and ask about being added to the schedule. Dime & Dollar has two locations: 211 Alexander St. in Wausau and 3268 Church St. in Stevens Point.
Lotsa Helping Hands
We have a care calendar to help support those who may be recuperating from an illness, surgery, loss of a loved one, or other situation in which they could use a helping hand. Volunteers can access the calendar from their home and sign up for the listed tasks as often or as infrequently as they wish according to their schedule and time constraints. This is a very flexible opportunity to serve and this invitation is open to everyone. If you would be willing to help, please join our community on lotsahelpinghands.com or contact Cynde Joosten at joosten@wctc.net.
Short-term Mission Projects
The WELS Kingdom Workers spreads the Gospel by addressing spiritual and physical needs in communities around the world. Find out about current opportunities on their webpage.