Serving the LORD
RIDE SHARE PROGRAM INTEREST FORM
The Board of Fellowship is looking to gauge interest for a Ride Share program at St. Paul's. This program would pair up those who would like to attend worship services but aren't able to drive themselves with those who are willing and able to pick up and bring individuals to worship. If you are interested in either receiving or giving rides, please fill out the interest form below.

Please note, we are currently only gathering information about the feasibility of a Ride Share Program. No definite details or timelines are in place. If you have any further comments, questions, or ideas, please contact Pastor Peter Plagenz or Seth Kroells, Board of Fellowship chairman.

| Online Interest Form |
| Contact Pastor Plagenz |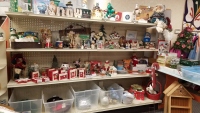 SHOP, DONATE & VOLUNTEER AT DIME & DOLLAR
Dime and Dollar Thrift Store is located at 1351 8th Street S. in Wisconsin Rapids. The store is next door to La Taqueria in the strip mall north of Pick N Save. Profits from the store support Northland Lutheran High School. The Store is open weekdays 10AM-5PM and Saturdays 10AM-2PM. Donations are accepted Tuesdays from 11AM-2PM and Thursdays from 1PM-4PM. If you plan to donate something, please be sure it is clean and in good working condition.
Regular volunteers are needed to sort donations, to cashier, and to bag. You can volunteer once a month, once a week, or more often. Sign up online or call the store at 715-421-2030.

| Online Signup |
WORSHIP TECHNOLOGY
We are looking for people to advance the PowerPoint slides during the worship services. If you are interested in more involved work with technology, we can find a spot for you too. You can volunteer on a rotational basis, once a month or more often.

| Contact Chris Williams |
THURSDAY OFFICE HELP
Help prepare the bulletin for Sunday. The work involves photocopying and some proofreading.

| Contact Judy Stensberg |
DONATE COPY PAPER
The church and school use a lot of of 8-1/2" X 11" white paper (labeled multi-purpose or copy paper) for printing worksheets, letters, reports and other materials. We also use 8-1/2" X 14" white paper for worship service folders. Your donations of any amount of paper are a big help.
SHORT-TERM MISSION PROJECTS
The WELS Kingdom Workers spreads the Gospel by addressing spiritual and physical needs in communities around the world. Find out about current opportunities on their webpage.

| Visit KingdomWorkers.com |