Serving the LORD
Christmas for Kids
Parents will get a chance to catch up on holiday tasks, while you share the real story of Christmas with their children. This one morning event takes place on Saturday, Dec. 7. We need people to shepherds groups, be station leaders, serve lunch, clean up and more. See our list on SignUp Genius.
| | | |
| --- | --- | --- |
| Be a Table Hostess Advent by Candlelight is Sunday, Dec. 8 at 6:00PM. On your own or with a friend, put together a pretty tablescape with a red and white theme. Then just keep the conversation going at your table during the evening. Sign up in the Welcome Center. If you need dishes, decorations, or just inspiration, contact us. | | |
Donate Copy Paper
We are in need of 8-1/2" X 11" white paper (labeled multi-purpose or copy paper) for printing worksheets, letters, reports and other materials. Some office supply retailers offer deals and rebates, so checks store flyers and websites. Donations of any amount are welcome.
Befriend a Missionary
Through the LWMS, our congregation has been assigned a home mission to pray for and encourage during the next two years. Our mission is Light of Life Lutheran Church in Greenwood, IN, who just launched a new outreach in a city 30 miles away. For now, the new group is meeting just once a month for bible study. You can find out more about Light of Life at facebook.com/LOLGreenwood. If you would like to send an encouraging card or email, please contact us for an address.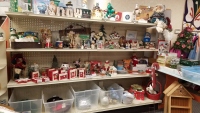 Volunteer at Dime & Dollar Thrift Store
Dime & Dollar Thrift Shop is an important source of income for Northland Lutheran High School. The people who volunteer their time and service to manage the store are truly heroes! However, our heroes are getting stretched thin; more volunteers are desperately needed to help out. Could you lend a hand? Call Jamie at 715-849-4168 and ask about being added to the schedule. Dime & Dollar has two locations: 211 Alexander St. in Wausau and 3268 Church St. in Stevens Point.
Lotsa Helping Hands
We have a care calendar to help support those who may be recuperating from an illness, surgery, loss of a loved one, or other situation in which they could use a helping hand. Volunteers can access the calendar from their home and sign up for the listed tasks as often or as infrequently as they wish according to their schedule and time constraints. This is a very flexible opportunity to serve and this invitation is open to everyone. If you would be willing to help, please join our community on lotsahelpinghands.com or contact Cynde Joosten at joosten@wctc.net.
Join A Ministry Team
We are always in need of people to serve regularly in our ongoing ministries. Visit our Minsitry Teams page for a complete listing of areas where you can put your talents and abilities to use in serving the Lord. New volunteers are always welcome and training is provided.
Short-term Mission Projects
The WELS Kingdom Workers spreads the Gospel by addressing spiritual and physical needs in communities around the world. Find out about current opportunities on their webpage.