11/15/2018 9:18:35 AM
Classroom Highlights - December 2018
3K-4K News - Mrs. Carole Melso
Some of our 3K-4K students show off their Halloween costumes.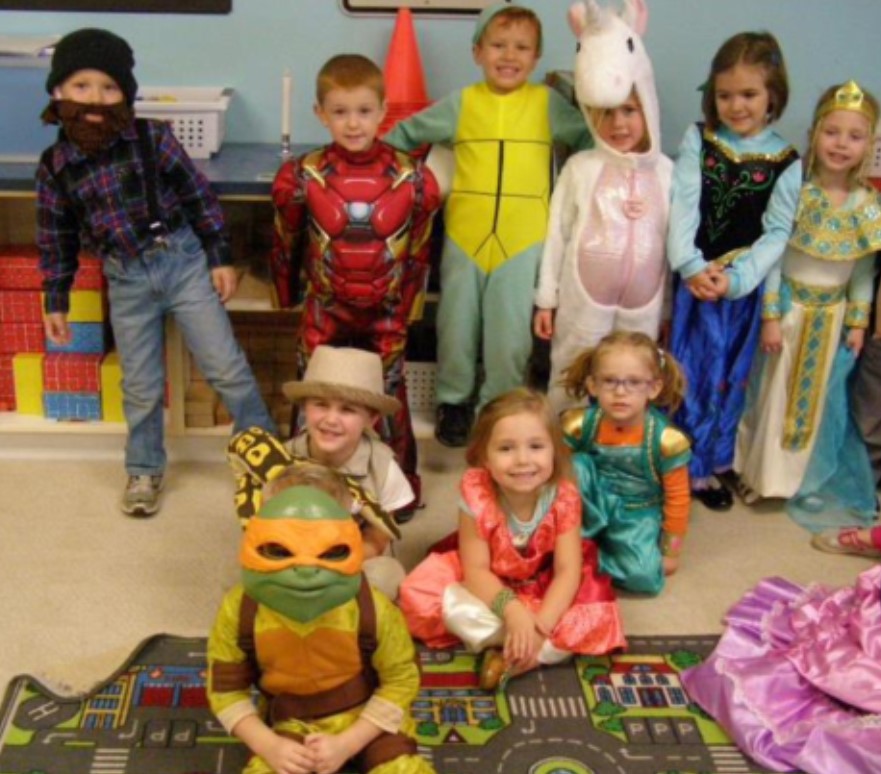 Kindergarten News – by Miss Rachel Haugley
Christ Light: This month we have learned about The Promised Land, Joshua, and Gideon.
Guided Discovery: We have learned about the zoo, lights, Martin Luther and tried a few experiments.
Reading: We have learned 3 more letters: Dd, Ss, Ll.
Sight Words: We have learned 4 more sight words: on, in, is, and it.
Special Events: We took a field trip to Aspirus Riverview Hospital.
Message from Ms. Haugly: Volunteers are still needed to come and read to the Kindergarten class. (10:15-10:30) Books will be provided or can be brought from home. Come and show how fun reading can be!!!
1st-2nd Grade News – by Mrs. Karen Obsuszt
It is November and we are only a couple weeks away from Thanksgiving. We just finished parent-teacher conferences. I am so thankful to have such a wonderful group of parents to work with. It truly is a blessing to come to work every day and have 18 wonderful students that really are a great group of kids. Thank you for all the hard work that goes on at home.
At school we are continually working hard on our reading and have been learning what nouns, adjectives, and verbs are. The second graders have been busy learning to write "how to" paragraphs. This is fun. We realize the importance of following the proper steps in a recipe and how it can be an awful mess if you don't. We are really enjoying Social Studies. We have had fun talking about what the past, present, and future is. The students also made an invention that they would like to see in the future. Then we discussed our family tree. We each made our own family tree. They noticed and respected that everyone's family tree is a little different.
In Christ Light we are always learning that God's plan for our life is always better than our plan. There is nothing too big for God. We just need to always have faith in him. He loved us so much that he sent his own Son to die for us. We are thankful for all of our blessings and hope you have a very Happy Thanksgiving.
3rd - 4th Grade News – by Mrs. Destinee Fiecko
Word of God: We've been following the roller coaster of Israel's faith life while they wander in the desert and take control of the land of Canaan. We've started the period of the Judges, with Gideon's calling. It's always so interesting to review the kinds of people God chooses for leadership - usually those who are timid and insecure. What miracles God performs through unexpected servants!
Language Arts: In Reading class both 3rd and 4th grade have been able to dive into some really interesting nonfiction texts. At this age, kids are super interested in factual stories and can't get enough of them. I'm looking forward to seeing their love of nonfiction come through in future research projects! In writing we've been working on some creative writing using story starters, and continue to write daily in our morning journals. Soon our class will be putting aside their reading books in favor of some novel studies. 4th grade will be studying "Stuart Little" by E.B. White, and 3rd grade will be studying "Mr. Popper's Penguins" by Richard and Florence Atwater. Pick up a copy and join us for a book talk!
WI History: We've entered the 17th and 18th centuries, when the French explored this territory in search of trade routes to China. What they found instead? Beaver furs - a pathway to wealth and prestige in Europe. These explorers and missionaries began settlements and outposts to stake their portion of the "New World" for France. Soon we'll be learning about the American Pioneers, and will take a special interest in the Ingalls family.
Life Skills: With the physical movement to the "big kid" wing, 3rd and 4th grade has really had to step up in showing responsibility in the hallway and during transition time. Being courteous to your neighbors is a skill we're focusing on right now.
Fun Stuff: We're loving going outdoors during recess. "There's no bad weather, only bad gear!" Our students could really benefit from some outdoor-specific play supplies: things like kickballs, velcro mitt and ball sets, winter saucers and sidewalk chalk. Fresh air is so incredibly important for academic and emotional well-being! If you'd like to contribute to our outdoor experience, please contact me at drfiecko@stpaulswr.org.
5th-6th Grade News – by Mr. John Quint
Even though each school year is academically the same year to year, each class has its own personality which makes each year different and interesting. This year, our 5th and 6th graders have a passion for the game of chess – and they can't seem to get enough of it! During free time, we often have several games going at once, including one three-way game (played on a hexagonal board). The students have also made it their mission to defeat their teacher. Doing so results in their name being added to a list on a golden trophy, as well as a jackpot of candy that accumulates when their teacher wins a game. So far, 5 students have defeated the teacher, and others wait patiently to take their turn.
For 5 weeks in October and November, former student (and current junior in high school) Josie Altmann has visited our classroom twice a week. Josie is studying to be a teacher and has been doing classroom observations to prepare. She recently taught an art mini-lesson, which the students (and their teacher) thoroughly enjoyed! God's blessings to Josie as she continues her studies.
7th-8th Grade News – by Mr. Randy Pahl
Our theme for November has been "change"! As we began our month, we needed to "fall back" by changing our clocks. It certainly helps to see the sun a little earlier in the day (if the clouds cooperate), but oh those nights seem so very looooooong now. How looooooong until we "spring ahead"?!
We are also changing seasons in the sports arena as preparations are underway for the upcoming basketball season. Practices have already begun and soon we will be participating in games against our four area Lutheran grade schools. Our first game is scheduled for December 14th at Our Savior's in Wausau. If you get the opportunity and can change your schedule, we'd enjoy having you come out and cheer on the Panthers!
In the world of academia, we've changed from the first 11 chapters of Genesis to our Christ Light lessons. We have noted how God has elected, redeemed and sanctified us so that we now lead lives that have been changed by the work of the Holy Spirit. In algebra, we have changed gears a bit by combining algebraic skills with geometric formulas and realized there's a "volume" of work to be done! 7th grade math has taken us to the never changing world of primes and composites where we have attempted to "factor" in some real life problems and solutions. Government class has found us making changes to the Articles of Confederation and forging a new constitution, while science has centered around the change from the geocentric to the heliocentric theory. Our final change has come in our daily routine. We have begun working on our songs and narrations for our Christmas Service which will take place on the 15th of December at 6:30 pm.
Lastly, some things never change - with Thanksgiving just around the corner we know for certain that the good Lord will continue to bless us and our families as we remember the countless blessings which He has poured out upon us. May we be especially reminded of the blessing of His changeless Son, our Savior, whose birth we look forward to with eager anticipation!