11/16/2017 7:28:17 AM
Advent Blues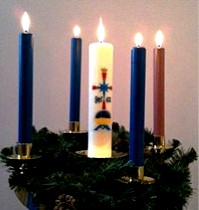 The blue we use in our paraments and other decorations for Advent represents hope and expectation. Deep blue is the color of the sky in the cold, dark hours before sunrise. And so, the blue of Advent reminds us of our hopeful anticipation of the dawn of Christ, when he will turn all darkness into light.
Our midweek Advent services will take their cue from the Advent color blue. Although Christ's birth was foretold in scripture, it seemed to come "out of the blue" for most people. His family was of "royal blue blood," tracing its lineage back to King David. And Jesus' birth was preceded by that of a "true blue baby," John the Baptist, who would faithfully prepare God's people for the work of the Messiah.
Join us on Wednesdays during Advent at either 3:30 or 6:30 p.m. It is an extra chance for you to focus on the real reason for the holiday season, our Savior Jesus Christ.
Join us for Supper
As usual, we will have an Advent meal between the services, from 4:30 to 6:00 p.m. Please bring some of your Christmas cookies and treats to share.
We ask everyone to pitch in with serving and clean up. To ensure we have enough people each week, please help on your scheduled day:
If your last name begins with the letters A-H, please help on Dec. 6.
If your last name starts with I-N, please help on Dec. 13.
And, if your last name begins with O-Z, please help on Dec. 20.