9/21/2017 5:54:54 AM
Pies. Pies. Pies.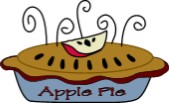 The Willing Worker Craft and Bake Sale is fast approaching, November 4-5, and that means we need HELP!
· Help by donating apples by September 25th for pies.
· Help by peeling apples on September 28th and October 5th at 1:00 p.m. We can use men and women of all ages to help peel.
· Help by pre-ordering pies from the office.
The prices are the same as last year, $11.00 for double and crumb crust apple pies. There will be pumpkin pies available at the sale for the same price. The proceeds from the sale this year will be used to help with the remodeling of our parsonage next door. Watch the weekly bulletin for more updates on the sale.